COMIC ROOM HAMBURG
Güntherstr. 94
22087 Hamburg
Öffnungszeiten im Laden:
Mo.-Di.:

11.30 - 19.00

Mi.:

Geschlossen

Do.-Fr.:

11.30 - 19.00

Sa.:

11.30 - 16.00
Tel.: (040) 25496088

Über den Comic Room
Unsere Emails:
ALL NEW X-FACTOR TP VOL 01 - VOL 03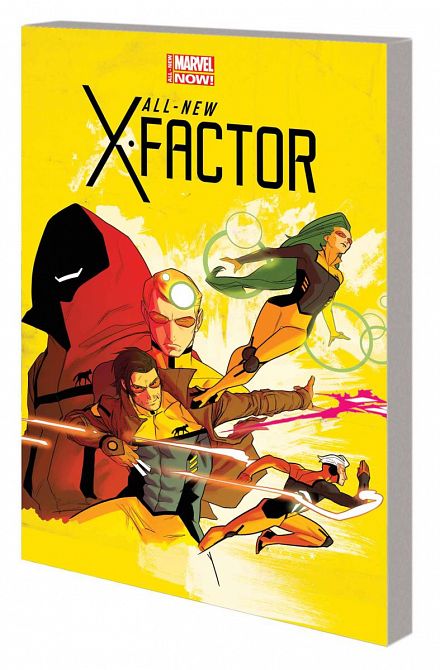 ALL NEW X-FACTOR TP VOL 01 - VOL 03

TPs #1-3 im Paket! | komplette Mini-Serie! | NOT BRAND X, CHANGE OF DECAY, AXIS | GELESEN (Comic kann leichte Gebrauchsspuren aufweisen) Coverpreis 61€
33,60€
***Rabatt-Aktion*** Dieser Artikel ist zurzeit um 20% reduziert!
Verlag: MARVEL COMICS
Künstler: David, Peter / Giandomenico, Carmine Di / Fletcher, Jared K.
Zeichner: Giandomenico, Carmine Di
Coverzeichner: Fletcher, Jared K.
Erscheinungsdatum: 6/18/2014
Beschreibung:
ALL NEW X-FACTOR TP VOL 01 - VOL 03

NOT BRAND X (01): X-Factor is back - like never before! Serval Industries - one of the world's most trusted names in electronics, and a leader in cutting-edge internet and weapons technology - has just unveiled their newest contribution to society: the All-New X-Factor! Led by the mutant mistress of magnetism, Polaris, the team uses its corporate backing for the betterment of society. But with her half-brother Quicksilver, notorious thief Gambit and more by her side, can Polaris trust that her corporate masters really have good intentions? Especially when X-Factor is meant to help people, but one of their own holds a dark secret? (Hint: it's Gambit.) Be there as the team learns the sinister truth behind Techno Inc., takes on former friends Danger and Warlock, and more! Experience the All-New X-Factor - brought to you by Serval Industries! Collecting ALL-NEW X-FACTOR #1-6.

CHANGE OF DECAY (02): One of the country's most outspoken anti-mutant leaders…has a mutant daughter! Now, it's up to X-Factor to rescue this young girl from her father! But when the team faces unexpected consequences for 'saving' the girl, X-Factor brings big trouble to its employer, Serval Industries - heavily armed trouble. Plus: Gambit does something naughty. And when his indiscretion is found out, nobody is happy. X-Factor holds a press conference, hoping that everything will turn out fine, but they're forgetting that pretty much all of them have awkward secrets that probably shouldn't be made public! Serval Industries brings you the heroes you need in any situation: an all-new X-Factor for an all-new day! Collecting ALL-NEW X-FACTOR #7-12. Rated T+

AXIS (03): Washington is burning - but with the effects of AXIS felt across the world, will X-Factor put out the fire…or watch it burn? The team steals the Nuclear Football from a Red Skull-controlled president and takes it back to Serval Industries for protection - but now, can their corporate headquarters withstand an attack from Sunfire and Longshot? And when Sunfire makes a very odd proposal, how will X-Factor resolve the crisis? Plus: Quicksilver is finally reunited with his estranged daughter, Luna - but the Inhumans aren't too happy about it! And when the team is dispatched to the Middle East to stop a war, a vengeful Egyptian goddess is set free - and her first target is X-Factor! Finally, as Spider-Man 2099 swings onto the scene, we finally learn the secret of Serval CEO Harrison Snow! Collecting ALL-NEW X-FACTOR #13-20.
X