COMIC ROOM HAMBURG
Güntherstr. 94
22087 Hamburg
Öffnungszeiten im Laden:
Mo.-Di.:

11.30 - 19.00

Mi.:

Geschlossen

Do.-Fr.:

11.30 - 19.00

Sa.:

11.30 - 16.00
Tel.: (040) 25496088

Über den Comic Room
Unsere Emails: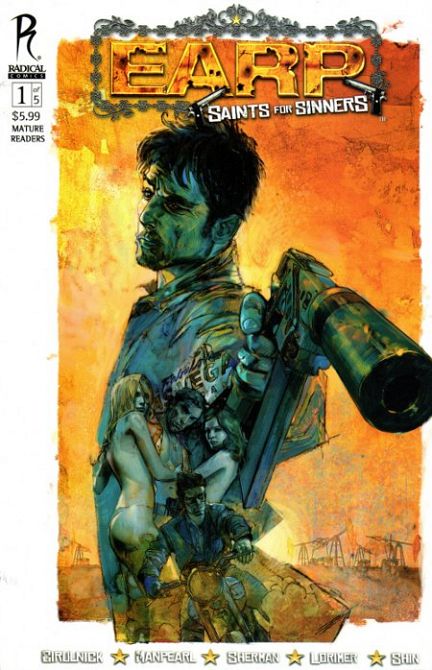 EARP SAINTS FOR SINNERS

#0-4 im Paket! | komplette Mini-Serie! | alles REG Cover
18,00€
Verlag: RADICAL PUBLISHING
Künstler: M. Z. Sherman, M. Cirulnick / Various / Alex Maleev
Zeichner: Various
Coverzeichner: Alex Maleev
Erscheinungsdatum:
Beschreibung:
EARP SAINTS FOR SINNERS (2010-2011)
#0-4 im Paket! | komplette Mini-Serie! | alles REG Cover

Created by Matt Cirulnick & David Manpearl (W) M. Zachary Sherman, Matt Cirulnick (A) Mack Chater, Martin Montiel, Kyushik Shin (C) Alex Maleev From Matt Cirulnick and David Manpearl comes a modern-day re-imagining of a classic western hero! In a world where the American economy has all but collapsed to the levels of the Great Depression, infamous bandits roam the country and the law is as corrupt as the criminals its sworn to stop. Yet one lawman remains a steadfast moral compass for the people: WYATT EARP. Earp has collared more most-wanted men than anyone in history - but after a violent assignment claims the life of his brother, Wyatt sets out to forge a simple life in the only boomtown left: Las Vegas. With gorgeous women and free-flowing money on endless tap, Sin City attracts more people than a modern gold rush. Though Earp no longer wears a U.S. Marshall's badge, his past is about to catch up to him. \With nearly everything to lose, Earp will have to beat the odds stacked against him in order to bring old-fashioned justice to Sin City.
X