COMIC ROOM HAMBURG
Güntherstr. 94
22087 Hamburg
Öffnungszeiten im Laden:
Mo.-Di.:

11.30 - 19.00

Mi.:

Geschlossen

Do.-Fr.:

11.30 - 19.00

Sa.:

11.30 - 16.00
Tel.: (040) 25496088

Über den Comic Room
Unsere Emails:
GRAVEL TP SPECIAL EDITION PAKET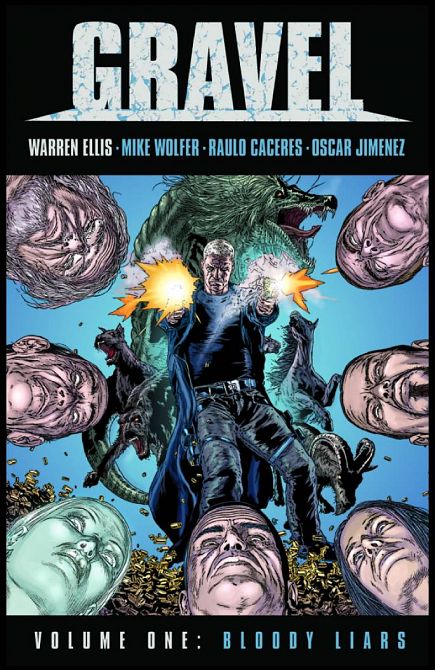 GRAVEL TP SPECIAL EDITION PAKET

US-Paperback Vol. 01-04 im Paket | komplette Serie!
40,00€
Verlag: AVATAR PRESS INC
Künstler: Ellis, Warren / Caceres, Raulo / Jimenez, Oscar
Zeichner: Caceres, Raulo
Coverzeichner: Jimenez, Oscar
Erscheinungsdatum:
Beschreibung:
GRAVEL TP SPECIAL EDITION PAKET
US-Paperback Vol. 01-04 im Paket | komplette Serie!

GRAVEL TP 01:

William Gravel carves a bloody path of death in his first full-color collection! Gravel Volume 1 features the first eight issues (#0-7) of this on-going series from Warren Ellis and co-writer Mike Wolfer with art by Raulo Caceres and Oscar Jimenez, as well as a special cover gallery! Long-buried and lost in antiquity, a unique book of magic once existed, filled with such extraordinary and arcane spells, supernatural rites, and inherent power that its possessor would be either unequaled, or driven irrevocably insane. Recently unearthed, the Sigsand Manuscript has been divided into six pieces and distributed among the Minor Seven, Britain's great Occult Detectives. With the Sigsand in their grasp, the Seven now wield more power than they were ever meant to possess - and William Gravel is not happy about it. Once a member of their Order but unceremoniously replaced within their ranks, the SAS Sergeant Major and Combat Magician is on a mission of revenge, redemption, and quite possibly rebirth, as he takes on the members of the Minor Seven one-by-one. And God help each of Gravel's former colleagues should they decide not to relinquish their sections of the Sigsand to the one man who might have the supernatural skills and restraint to use the reconstituted manuscript without accidentally destroying the Earth in the process. They all promised to use the unholy power wisely, but Gravel knows they are all Bloody Liars!

GRAVEL TP 02:

This second color volume of Warren Ellis' and Mike Wolfer's on-going adventures of Combat Magician William Gravel is now available, collecting issues 8 through 14 of the series. After carving a bloody path through his fellow members of the Minor Seven, the last thing Sergeant Major William Gravel expected was to be welcomed with open arms into a much more prestigious ensemble: The Major Seven. But enlistment as the newest recruit among the Master Magicians of England comes with a price, and a penance. Before Gravel can fully gain acceptance within their ranks, the Major Seven have two tasks for him. The first, to reform the Minor Seven, whom he personally crushed with his own hands. The second, to uncover the murderer within the Major Seven who killed one of their own, the woman whose place Gravel will fill if he completes his inaugural assignments. Trouble is, the six remaining members of the Major Seven are just like the Minor Seven, a pack of bloody liars. And before he's done, the seasoned Combat Magician will make it very clear to the overseers of Britain's occult hierarchy that a penance, and a price, is not only his burden to endure.

GRAVEL TP 03:

It's never a dull day, being the last king of Britain's magicians, and before this bloody day is through, Combat Magician William Gravel will be rocked to the foundations of his beliefs and powers of the occult. After his systematic and murderous elimination of the members of both the Minor Seven and the Major Seven, Gravel now stands supreme, but being the King is not as glamorous as it sounds. He's reformed the Minor Seven, filling their ranks with young, working-class occult detectives, but their powers and Gravel's own leadership skills are about to be put to the test when a twisted, demented magician who didn't make the cut decides to show Gravel the error of passing him up for selection. To complicate his life even further, the British Government is breathing heavily down Gravel's neck as the body count of innocent British citizens rises. But is Downing Street's concern solely for public safety related to Bible Jack's terrorist attacks on London, or is it something more politically-motivated? Collecting issues 15-21 of the Gravel series, this incredible and violent chapter in the Gravel saga completes the three-part story arc that began in GRAVEL VOLUME 1: BLOODY LIARS and continued in GRAVEL VOLUME 2: THE MAJOR SEVEN.

GRAVEL TP 04:

WARREN ELLIS' hardened combat magician, William Gravel returns with a violent new adventure taking him into the heart of Japan to face a rogue magic wielding assassin. Written by long-time Ellis collaborator, MIKE WOLFER, this tale returns the hard as nails Gravel to action against supernatural forces that threaten to reveal the very existence of the Combat Magicians and leaves a wide trail of victims in its wake. This volume includes a special introduction chapter to the world of Gravel for new readers and brings one of comics longest running independent characters back to the bloody violence filled world he pioneered. Artist Gabriel Rearte vibrantly creates the ultra-violent combat magic-fueled assassin's domain with horrors that are right out of your worst nightmares. Gravel Vol 04 Combat Magician collects issues #0 - 4 of the comic book series.

X