COMIC ROOM HAMBURG
Güntherstr. 94
22087 Hamburg
Öffnungszeiten im Laden:
Mo.-Di.:

11.30 - 19.00

Mi.:

Geschlossen

Do.-Fr.:

11.30 - 19.00

Sa.:

11.30 - 16.00
Tel.: (040) 25496088

Über den Comic Room
Unsere Emails: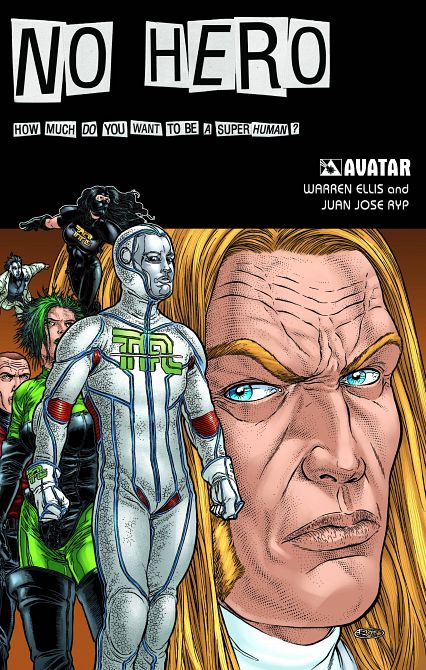 NO HERO HC

SPECIAL SALE EDITION
20,00€
Verlag: AVATAR PRESS INC
Künstler: Ellis, Warren / Ryp, Juan Jose / Ryp, Juan Jose
Zeichner: Ryp, Juan Jose
Coverzeichner: Ryp, Juan Jose
Erscheinungsdatum: 14.11.2018
Beschreibung:
SPECIAL SALE EDITION

Warren Ellis and Juan Jose Ryp, the team behind the fan-favorite BLACK SUMMER, are revolutionizing masked heroes yet again in this blockbuster epic! Dead heroes in the dirt. A killer capable of almost supernatural tortures. Five generations of the world's only superhuman group. A forty-year legacy of standing for the rights of freedom and safety. A young man obsessed with the need for street justice. How much do you want to be a superhuman? How badly does he want it? Bad enough to bring on the last days of an American legend? If he even gets to survive that long? Forty years ago, a group of superhumans emerged in San Francisco, guided by the man whose unique new drugs gave them their incredible powers. But the team is not the only thing that's advanced over the years, and there are no easy victories when their luck finally begins to run out... This huge collection features all eight issues of the series with a cover gallery under an all-new cover by Juan Jose Ryp. This tome is also available as a Hardcover edition with an exclusive cover by series artist Ryp that is limited to just 2000 copies and a special Dual Signed Hardcover featuring a new cover and is signed by both writer Warren Ellis and artist Juan Jose Ryp that is limited to only 400 copies!

X