COMIC ROOM HAMBURG
Güntherstr. 94
22087 Hamburg
Öffnungszeiten im Laden:
Mo.-Di.:

11.30 - 19.00

Mi.:

Geschlossen

Do.-Fr.:

11.30 - 19.00

Sa.:

11.30 - 16.00
Tel.: (040) 25496088

Über den Comic Room
Unsere Emails: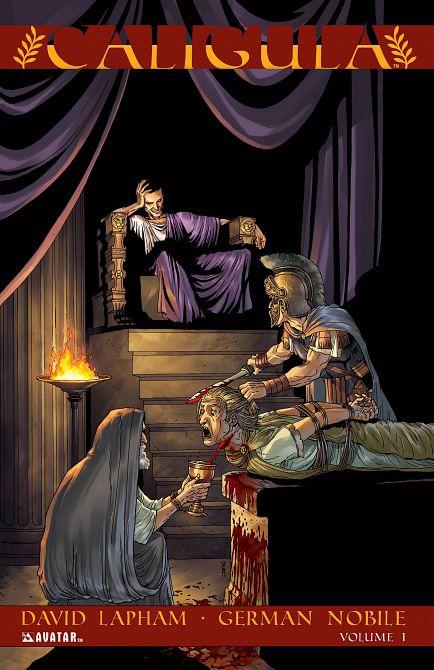 CALIGULA HC VOL 01

SPECIAL SALE EDITION
19,00€
Verlag: AVATAR PRESS INC
Künstler: Lapham, David / Nobile, German / Burrows, Jacen
Zeichner: Nobile, German
Coverzeichner: Burrows, Jacen
Erscheinungsdatum: 14.11.2018
Beschreibung:
SPECIAL SALE EDITION

In an age of depravity, one man's appetites horrified the entire Roman Empire... the mad emperor, Caligula. When his family was brutally slaughtered by Caligula and his court, Junius travels to Rome to avenge their deaths, but discovers that the emperor cannot be killed, no matter how horrific the wound! Renamed 'Felix' and admitted into Caligula's court as a pet, confidante, lover, and biographer, the young man witnesses the worst depravity and brutality that the ancient world has to offer: virgin blood ceremonies, rigged gladiator fights, and dinner parties where guests are randomly slaughtered. Can Felix maintain his sanity in the face of so much horror and discover the secret behind Caligula's mysterious supernatural power over life and death? All six issues of the first series are collected here. The modern master of horror, David Lapham (Crossed Vol. 2: Family Values, Stray Bullets), joins talented painter German Nobile in a descent into the darkest corners of Rome's history. Available in three editions: as a TPB or Hardcover with covers by artist Jacen Burrows and also a Signed Hardcover signed by writer David Lapham and limited to just 1000 copies!
X