COMIC ROOM HAMBURG
Güntherstr. 94
22087 Hamburg
Öffnungszeiten im Laden:
Mo.-Di.:

11.30 - 19.00

Mi.:

Geschlossen

Do.-Fr.:

11.30 - 19.00

Sa.:

11.30 - 16.00
Tel.: (040) 25496088

Über den Comic Room
Unsere Emails:
ERB UNIVERSE NOVEL HC VOL 01 CARSON OF VENUS EDGE ALL WORLDS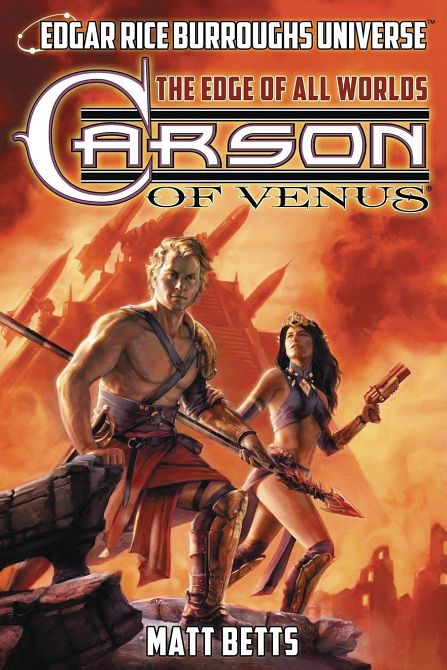 ERB UNIVERSE NOVEL HC VOL 01 CARSON OF VENUS EDGE ALL WORLDS

33,20€
Dieser Artikel ist momentan nicht vorrätig. Die Lieferung kann 2-3 Wochen dauern.
Verlag: EDGAR RICE BURROUGHS, INC
Künstler: Betts, Matt / Peuler, Chris / Peuler, Chris
Zeichner: Peuler, Chris
Coverzeichner: Peuler, Chris
Erscheinungsdatum: 19.11.2021
Beschreibung:
SYNOPSIS: When a mysterious enemy attacks his adopted nation of Korva, Earthman Carson Napier discovers his own arrival on Venus years ago may have unknowingly triggered the strike. The invaders' trail of death and destruction leads Carson and his beloved princess Duare headlong into battle against a seemingly invincible, primordial race. But that is not Carson's only challenge, for an uncanny phenomenon has entangled him with two strange individuals from beyond spacetime. Will Carson be able to solve the mysteries of his past and the enigmatic visitors before the entire planet descends into chaos? Includes an all-new bonus novelette-'Pellucidar: Dark of the Sun' by Christopher Paul Carey-introducing the Edgar Rice Burroughs Universe's newest heroine, Victory Harben. Special Notes: A century before the term 'crossover' became a buzzword in popular culture, Edgar Rice Burroughs created the first expansive, fully cohesive literary universe. Coexisting in this vast cosmos was a pantheon of immortal heroes and heroines-Tarzan of the Apes®, Jane Clayton™, John Carter®, Dejah Thoris®, Carson Napier™, and David Innes™ being only the best known among them. In Burroughs' 80-plus novels, their epic adventures transported them to the strange and exotic worlds of Barsoom®, Amtor™, Pellucidar®, Caspak™, and Va-nah™, as well as the lost civilizations of Earth and even realms beyond the farthest star. Now the Edgar Rice Burroughs Universe expands in an all-new series of canonical novels written by today's talented authors, beginning with Carson of Venus: The Edge of All Worlds, the first book in the Swords of Eternity super-arc!
X