COMIC ROOM HAMBURG
Güntherstr. 94
22087 Hamburg
Öffnungszeiten im Laden:
Mo.-Di.:

11.30 - 19.00

Mi.:

Geschlossen

Do.-Fr.:

11.30 - 19.00

Sa.:

11.30 - 16.00
Tel.: (040) 25496088

Über den Comic Room
Unsere Emails: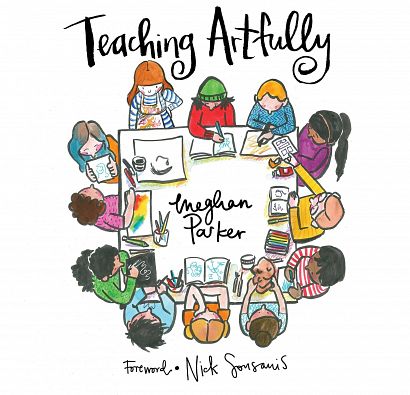 TEACHING ARTFULLY GN TP

23,75€
Dieser Artikel ist momentan nicht vorrätig. Die Lieferung kann 2-3 Wochen dauern.
Verlag: CLOVER PRESS, LLC
Künstler: Parker, Meghan / Parker, Meghan / Parker, Meghan
Zeichner: Parker, Meghan
Coverzeichner: Parker, Meghan
Erscheinungsdatum: 08.04.2021
Beschreibung:
Teaching Artfully charmingly chronicles Meghan Parker's explorations as a new art teacher in a public high school. Parker struggles with engaging her students with art and why it's an important part of education. A lesson, in comic-form, we can all learn from. Created as a groundbreaking Master of Arts thesis in the Faculty of Education at Simon Fraser University, Teaching Artfully celebrates the role of the arts and emphasizes the importance of personal connection in education. Meghan Parker's debut and insightful graphic novel captures the educator's inquiries, experiences, and challenges. Ultimately Teaching Artfully captivates, inspires, and motivates the reader-all with endearing humor! 'I can't imagine a better catalyst for creativity! I would recommend this to anyone!' -Emil Ferris, Author of My Favorite Thing Is Monsters, multiple Eisner Award winner 'In an era where the arts are often eliminated from K-12 schools and standardized tests along with other impersonal metrics are the measures of student success, Meghan Parker's inquiry into what it means to teach art demonstrates the extraordinary ways art education transforms, connects, and shapes us. Parker brilliantly uses comics as the medium for this self-reflexive examination of how art works and why art education matters. This accessible and engaging book is a welcome addition to the growing body of comics as a mode of scholarly inquiry.' -Prof. Carol Tilley, Ph.D. Comics historian, library educator, former high school teacher, and past president of the Comics Studies Society Teaching Artfully © 2021 Meghan Parker. All Rights Reserved.
X