COMIC ROOM HAMBURG
Güntherstr. 94
22087 Hamburg
Öffnungszeiten im Laden:
Mo.-Di.:

11.30 - 19.00

Mi.:

Geschlossen

Do.-Fr.:

11.30 - 19.00

Sa.:

11.30 - 16.00
Tel.: (040) 25496088

Über den Comic Room
Unsere Emails:
CALL OF CTHULHU MYSTERY IN 3 PARTS ILLUSTRATED SC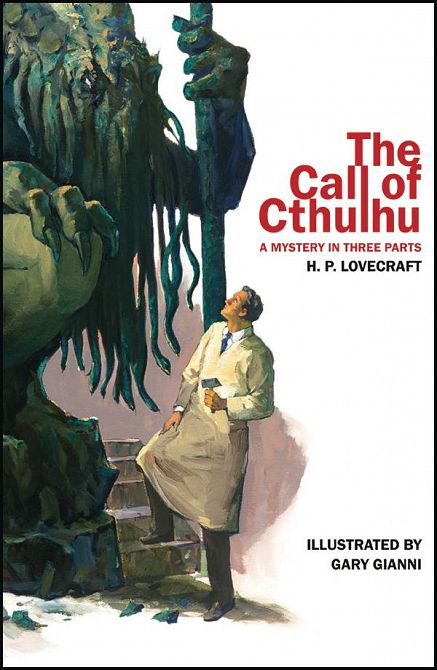 CALL OF CTHULHU MYSTERY IN 3 PARTS ILLUSTRATED SC

20,00€
Verlag: FLESK PUBLICATIONS
Künstler: Lovecraft, H. P. / Gianni, Gary / Gary Gianni
Zeichner: Gianni, Gary
Coverzeichner: Gary Gianni
Erscheinungsdatum: 07.10.2021
Beschreibung:
Written in 1928, H.P. Lovecraft's The Call of Cthulhu defined the ancient gods as dark creatures who came from the stars and ruled the world before mankind. When these ancient ones awaken, humanity is plagued by a nightmare of terrors etched upon an epic backdrop. The author's concept deeply redefined the horror story with this thrilling, dense mystery that spawned a virtual genre. The artist Gary Gianni and designer Marcelo Anciano both felt that Lovecraft's short story presented an opportunity to visually expand the Cthulhu Mythos and push the boundaries of illustrated books. Intense and fast-paced, the tale enabled them to explore graphic storytelling and illustrate the text in a unique way. It was a personal project for Gianni, who drew upon his decades of experience in illustrating numerous books and graphic novels. The Call of Cthulhu, as illustrated by Gary Gianni, is a fusion of cinematic design, the graphic novel and illustrated books. Over a hundred finished pencil drawings with color pieces enhance and bring to life the work of two visionaries-Lovecraft and Gianni-in an extraordinary feat of storytelling and art.
X