COMIC ROOM HAMBURG
Güntherstr. 94
22087 Hamburg
Öffnungszeiten im Laden:
Mo.-Di.:

11.30 - 19.00

Mi.:

Geschlossen

Do.-Fr.:

11.30 - 19.00

Sa.:

11.30 - 16.00
Tel.: (040) 25496088

Über den Comic Room
Unsere Emails: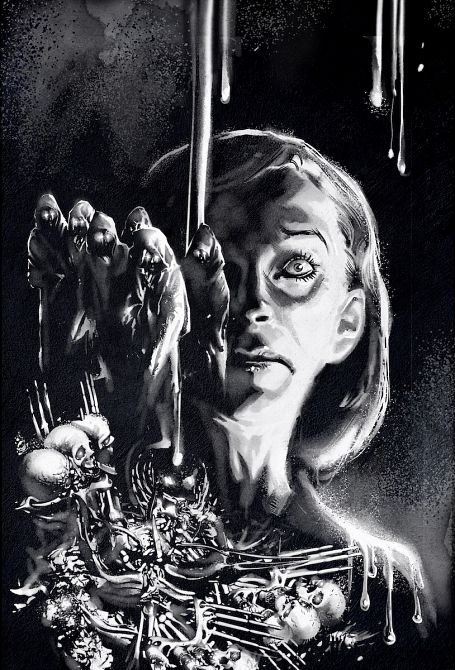 THE LOT #03

First Printing | Nur ein Exemplar pro Kunde!
5,99€
Verlag: BAD IDEA COMICS
Künstler: Marguerite Bennett (writer) // Renato Guedes (art + colors + cover)
Zeichner: Renato Guedes
Coverzeichner: Renato Guedes
Erscheinungsdatum: 09.09.2021
Beschreibung:
THE LOT #3

Page Count: 40

ONLY ONE ISSUE PER CUSTOMER | NUR EIN HEFT PRO KUNDE
Verlagsvorgabe!

In the 1970s, legendary filmmaker Oliver Larsen began production on what was to be his horror masterpiece. Obsessed with authenticity, the megalomaniacal director insisted on filming a real-life occult ritual performed by actual cult members. The cast and crew, of course, gave no credence to the cultists' beliefs, but soon were proselytised as something awoke that day on the studio lot. In the bloody aftermath, the production was permanently shut down, the footage suppressed, and the soundstage that bore witness forever shuttered.



Until today.



Aviva Copeland is the newly promoted studio head -- the youngest in decades. Great things are expected of her. Maybe greater than is fair. She has the unenviable task of restoring the studio's fading image and resurrecting its financial viability. She's up for the challenge. Poring over the sea of red in the company ledger she finds just the thing to help her do it -- a prime piece of California real estate has been sitting unused on the studio books, hemorrhaging money for decades. Why would they let a lot this valuable just rot? Aviva will soon find her answer and with it she will discover that though the lot may have been closed for a half-century, it's far from empty…and the evil that lives within its haunted walls will soon seize its chance to kill again.



New York Times best-selling writer Marguerite Bennett (Animosity, A-Force) and artist Renato Guedes (DCeased: Hope at World's End) present a terrifying vision of horror and Hollywood in the boldly bloody Bad Idea manner!

A NOTE REGARDING THE LOT PREVIEW PAGES

Out of an abundance of caution rising from the early reactions to THE LOT, we will be withholding story and art pages, as well as details beyond the synopsis until further notice. We cannot, in good conscious, continue to make widely available pages that have caused such a disturbing response. We appreciate your understanding and patience in this matter.
X