COMIC ROOM HAMBURG
Güntherstr. 94
22087 Hamburg
Öffnungszeiten im Laden:
Mo.-Di.:

11.30 - 19.00

Mi.:

Geschlossen

Do.-Fr.:

11.30 - 19.00

Sa.:

11.30 - 16.00
Tel.: (040) 25496088

Über den Comic Room
Unsere Emails:
BESTIES HC GN VOL 01 WORK IT OUT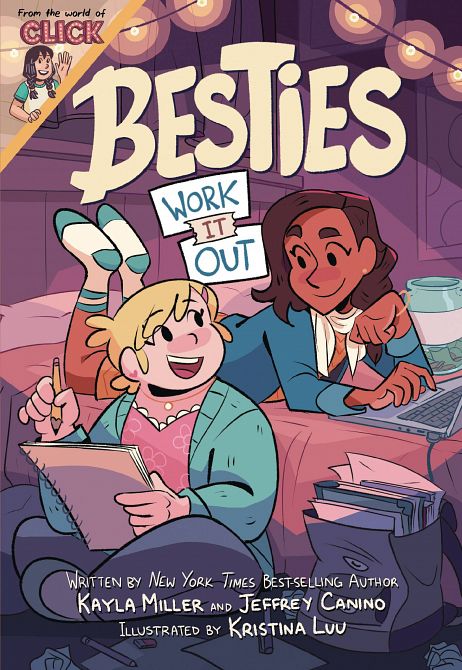 BESTIES HC GN VOL 01 WORK IT OUT

23,75€
Dieser Artikel ist momentan nicht vorrätig. Die Lieferung kann 2-3 Wochen dauern.
Verlag: HOUGHTON MIFFLIN HARCOURT
Künstler: Miller, Kayla / Luu, Kristi / Luu, Kristi
Zeichner: Luu, Kristi
Coverzeichner: Luu, Kristi
Erscheinungsdatum: 07.10.2021
Beschreibung:
A fun and fresh graphic-novel series spin-off of the New York Times best-selling Click books, featuring aspiring entrepreneurs Beth and Chanda! When the girls land a lucrative dogsitting gig, they're sure that fame, fortune, and popularity can't be far behind, but nothing can prepare them for the mishap that throws their business plan-and friendship-into chaos! Meet Beth and Chanda, two stylish best friends on their way to building their fashion empire! An unexpected business opportunity presents itself when the girls are asked to dogsit at Ms. Langford's luxurious house while she's away, but it quickly turns into a disaster after an accident leaves one of Ms. Langford's prized possessions in pieces! Now Beth and Chanda have to take on as many odd jobs as they can in order to afford a replacement. Car washing, book sales, interior decorating-you name it, Beth and Chanda are there! Will they be able to patch up their mistake in time? New York Times best-selling author Kayla Miller and co-author Jeffrey Canino deliver a vibrant and honest story about middle school friendships and personal responsibility. Accompanied by Kristina Luu's fizzy, expressive art style, this graphic novel is the perfect companion to Olive's existing stories.
X