COMIC ROOM HAMBURG
Güntherstr. 94
22087 Hamburg
Öffnungszeiten im Laden:
Mo.-Di.:

11.30 - 19.00

Mi.:

Geschlossen

Do.-Fr.:

11.30 - 19.00

Sa.:

11.30 - 16.00
Tel.: (040) 25496088

Über den Comic Room
Unsere Emails:
TO THE DEATH GN W SLIPCASE VOL 01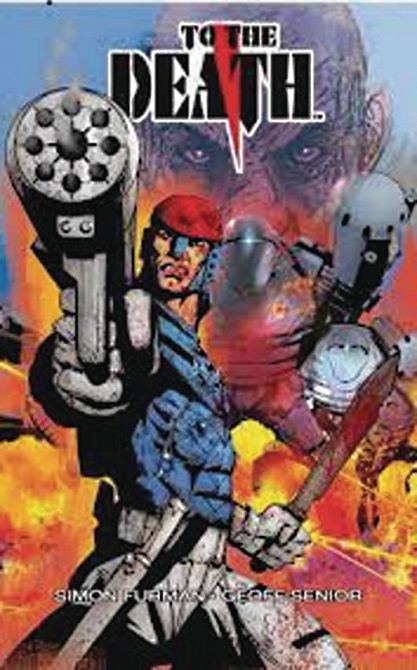 TO THE DEATH GN W SLIPCASE VOL 01

30,00€
Dieser Artikel ist momentan nicht vorrätig. Die Lieferung kann 2-3 Wochen dauern.
Verlag: FORGED BY FIRE
Künstler: Furman, Simon / Senior, Geoff
Zeichner: Senior, Geoff
Erscheinungsdatum: 04.08.2022
Beschreibung:
Aleksy Dryagin returns from off-world wars to find that putting down his guns and picking up where he left off with his wife and young son is not an option. Instead, he's marked for death, the pawn in a power struggle between the omnipotent Tri-Corp and subversive organization White Noise. But Dryagin is no one's pawn. You pick a fight with Dryagin… It's To The Death. Populated with colourful characters - such as evolved fish-man Killatoa, The Triumvirate, and Dryagin's crack Scourge platoon of 'Pacifiers', To The Death is widescreen kinetic action all the way, building to a truly Earth-shattering conclusion. In the 1980s, (writer) Furman and (artist) Senior were at the cutting edge of British comics with fan-favourite runs on Transformers, Dragon's Claws and Death's Head (for Marvel UK) and work on 2000 AD. Both decamped to Marvel US, working on the likes of She-Hulk, What If?, Alpha Flight, Robocop and more. Furman's epic run on Transformers continued from Marvel to Dreamwave and onto IDW, where Furman kick-started the entire IDW TRANSFORMERS-VERSE. Though Senior moved more into storyboarding and advertising, his comics work continued - and he recently contributed to both Transformers: Regeneration One and Transformers: Requiem of the Wreckers. Furman's most recent work includes Robotech and The Vigilant. The first of two volumes, volume one contains the first 5 individual perfect bound graphic volumes of To The Death, housed in a beautiful slipcase and shrink-wrapped. Volume one comes with the landscape format standalone prequel book, Forged By Fire.
X