COMIC ROOM HAMBURG
Güntherstr. 94
22087 Hamburg
Öffnungszeiten im Laden:
Mo.-Di.:

11.30 - 19.00

Mi.:

Geschlossen

Do.-Fr.:

11.30 - 19.00

Sa.:

11.30 - 16.00
Tel.: (040) 25496088

Über den Comic Room
Unsere Emails:
GRAVEL TP VOL 01 BLOODY LIARS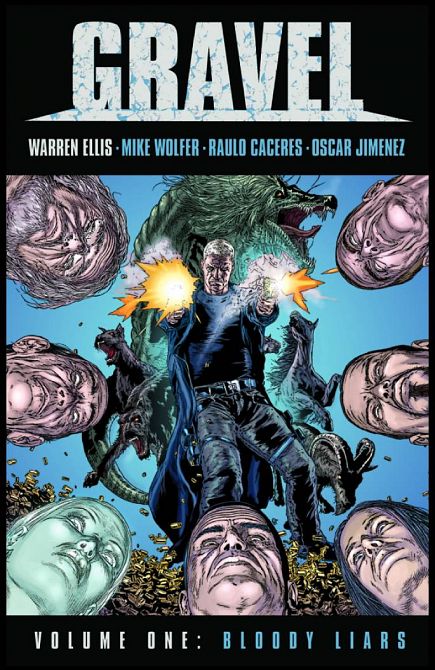 GRAVEL TP VOL 01 BLOODY LIARS

BLOODY LIARS
25,00€
Verlag: AVATAR PRESS INC
Künstler: Warren Ellis, Mike Wolfer / Raulo Caceres, Oscar Jimenez / Oscar Jimenez
Zeichner: Raulo Caceres, Oscar Jimenez
Coverzeichner: Oscar Jimenez
Erscheinungsdatum: 11/25/2009
Beschreibung:
(W) Warren Ellis, Mike Wolfer (A) Raulo Caceres, Oscar Jimenez William Gravel carves a bloody path of death in his first full-color collection! Gravel Volume 1 features the first eight issues (#0-7) of this on-going series from Warren Ellis and co-writer Mike Wolfer with art by Raulo Caceres and Oscar Jimenez, as well as a special cover gallery! Long-buried and lost in antiquity, a unique book of magic once existed, filled with such extraordinary and arcane spells, supernatural rites, and inherent power that its possessor would be either unequaled, or driven irrevocably insane. Recently unearthed, the Sigsand Manuscript has been divided into six pieces and distributed among the Minor Seven, Britain's great Occult Detectives. With the Sigsand in their grasp, the Seven now wield more power than they were ever meant to possess - and William Gravel is not happy about it. Once a member of their Order but unceremoniously replaced within their ranks, the SAS Sergeant Major and Combat Magician is on a mission of revenge, redemption, and quite possibly rebirth, as he takes on the members of the Minor Seven one-by-one. And God help each of Gravel's former colleagues should they decide not to relinquish their sections of the Sigsand to the one man who might have the supernatural skills and restraint to use the reconstituted manuscript without accidentally destroying the Earth in the process. They all promised to use the unholy power wisely, but Gravel knows they are all Bloody Liars! Available in a standard Softcover and a limited edition Hardcover, of just 1,500 copies, both with all-new covers by Oscar Jimenez.
X