COMIC ROOM HAMBURG
Güntherstr. 94
22087 Hamburg
Öffnungszeiten im Laden:
Mo.-Di.:

11.30 - 19.00

Mi.:

Geschlossen

Do.-Fr.:

11.30 - 19.00

Sa.:

11.30 - 16.00
Tel.: (040) 25496088

Über den Comic Room
Unsere Emails:
JOKER PRESENTS A PUZZLEBOX HC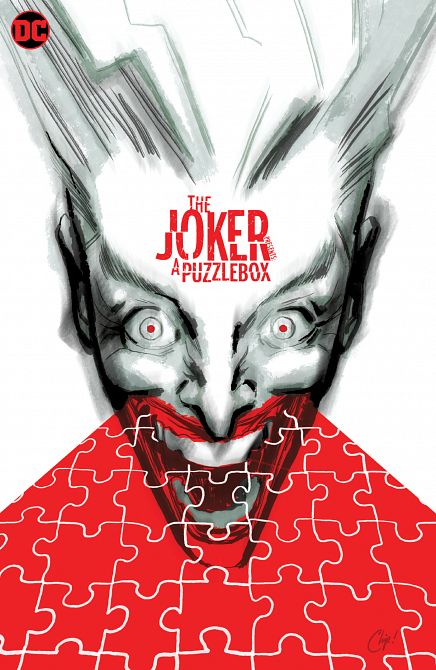 JOKER PRESENTS A PUZZLEBOX HC

36,00€
Artikel noch nicht erschienen. Vorbestellung über 'Kaufen'!
Verlag: DC COMICS
Künstler: Matthew Rosenberg / Various / Chip Zdarsky
Zeichner: Various
Coverzeichner: Chip Zdarsky
Erscheinungsdatum: 15.09.2022
Beschreibung:
Art by Jesus Merino, Joshua Hixson, Keron Grant, Dani, Vicente Cifuentes, Dominike Domo Stanton, Juni Ba, Vanesa Del Rey, Ricardo Lopez Ortiz, Christopher Mooneyham, Freddie E. Williams II, Shawn Crystal, Juan Doe and Mike Norton You can call The Joker a lot of things—psychopathic, murderous, disturbed, obsessed, anarchic, maybe even genuinely funny. But one thing no one would call him, regardless of what side of the law they might fall on, is dependable. The Joker will double-cross his own partners on a whim, let alone anyone trying to stop him. Yet when it comes to solving one of the strangest, most perplexing mysteries to ever hit Gotham, the Joker's word is about all that the GCPD has. A mystery with the most unreliable narrator in the DC Universe, this seven-issue miniseries finds Commissioner Gordon and the rest of the GCPD with a headline-grabbing crime on their hands, a suspect list that includes just about every villain in Gotham, and only the Clown Prince of Crime's testimony as a lead. But how much of what The Joker says can you believe? Was he behind the crime, or just a witness? Is that red stain on his shirt just a little strawberry jelly like he claims? And most importantly, who killed the Riddler? On top of all the puzzles and mysteries and the crazy cast of characters, this collection showcases some of the finest talent working in comics today. Collects The Joker Presents: A Puzzlebox #1-7.
X