COMIC ROOM HAMBURG
Güntherstr. 94
22087 Hamburg
Öffnungszeiten im Laden:
Mo.-Di.:

11.30 - 19.00

Mi.:

Geschlossen

Do.-Fr.:

11.30 - 19.00

Sa.:

11.30 - 16.00
Tel.: (040) 25496088

Über den Comic Room
Unsere Emails:
DARK HORSE BOOK OF HAUNTINGS HC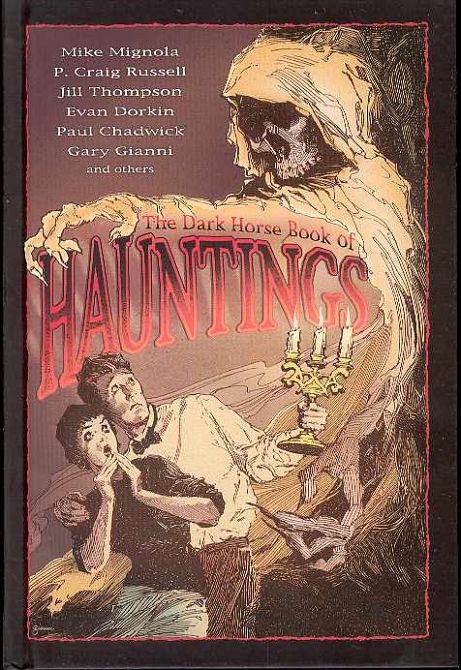 DARK HORSE BOOK OF HAUNTINGS HC

18,00€
VERLAGSVERGRIFFEN - Wir haben noch eine Ausgabe!
Verlag: DARK HORSE COMICS
Künstler: Mike Mignola, Various / Various / Gary Gianni
Erscheinungsdatum: 31.01.2007
Beschreibung:
MIGNOLA, RUSSELL, CHADWICK, DORKIN, THOMPSON, and others cover by GARY GIANNI On sale August 20, HC, 96pg, FC Dark Horse's horror line launches its new prestige format with this hardcover book filled with original short stories by some of the most respected names in comics. The longest story in The Dark Horse Book of Hauntings is also Mike Mignola's only new Hellboy adventure in 2003! Come along as Hellboy investigates a haunted house and discovers his own unexpected connection to the spirits within. P. Craig Russell (Sandman, Murder Mysteries) adapts Dark Horse publisher Mike Richardson's story about a child who leads friends and family into an abandoned house, and Paul Chadwick and his longtime Concrete editor Randy Stradley team up for a creepy short about a haunted suit. In the strangest entry in the book, Jill Thompson (Scary Godmother) and Evan Dorkin (Hectic Planet) recount the legend of a haunted doghouse. With a Victorian ghost story illustrated by Gary Gianni, and an interview with real-life séance medium L.L. Dreller, plus a new Devil's Footprints story and outstanding contributions from international artists Uli Oesterle (Germany) and Lucas Maragnon (Mexico), this is the ultimate book for horror-comics enthusiasts and fans of fantastic artwork.
X